A few weeks ago, I needed a little girl baby shower present for a co-worker. I knew I wanted something fun and super girly- since those are things I never get to purchase 'round these parts.
Enter Sweet Baby Jean Hair Accessories.
Stephanie Jean, the wonderfully talented Mama behind Sweet Baby Jean, is an immensely creative and crafty lady. She was inspired to start making hair accessories once her sweet little nugget, Adina, came into the world and she hasn't stopped since. She has even branched out to making tutus, adult headbands, toddler bows and ear warmers.
I looked all over Etsy, and I couldn't find a better price on headbands that were as cute and detailed as Sweet Baby Jean. I saw alot that I liked, but I didn't see exactly what I wanted so I took a chance and reached out to her for a custom order. I told her that I knew I wanted something pink and extremely girlie, but that was all (hey, I'm a boy Mama, I may never get to buy pink and frilly!). She came up with the design and when she described it to me, it was perfect. I knew I couldn't wait to get it. Stephanie was so easy to work with, and when I told her I needed it in a rush she didn't miss a beat. I placed my order on Monday and it was in my mailbox on Thursday- at no extra charge for a rush order!
When it arrived, I was SO impressed with the quality of the piece. I paid $10.00- and she could have EASILY charged $20. Each flower was hand sewn, and in the softest fabric ever. The liner on the back was soft felt and kept all of the stitches and rough edges hidden. She even put the time in to place a gem in the center of each flower, adding that little bit of sparkle.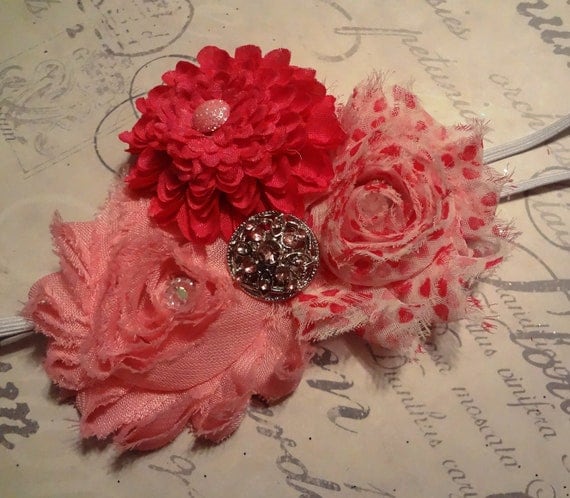 I was so tempted to make Grayson wear this. I was that in love. Luckily, my kid wont hold still long enough for me to even have attempted getting this on his head. Stephanie was kind enough to share a photo of her little Adina (gah, how cute is she?!?) modeling the headband so I could see how it will look on the new bean-to be. My co-worker loved it, and even asked for Stephanie's card so she could order more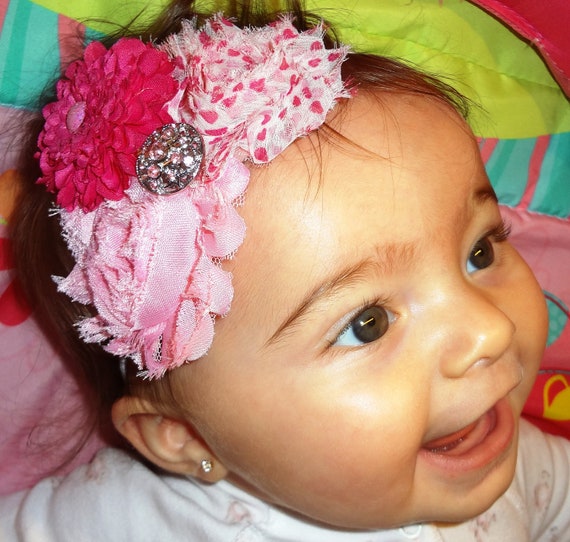 If you're looking for some Christmas gifts you really want to check her out. Ive been all over Etsy (just ask my credit card) and Stephanie is one of the absolute best sellers I have come across! I already intend to order some custom ear warmers for some big girls on my shopping list, and possibly for myself as well!