Here I am again, linking up with the Sunday Social. I had such fun last week popping in on different people and reading the answers to their questions that I decided to do it again!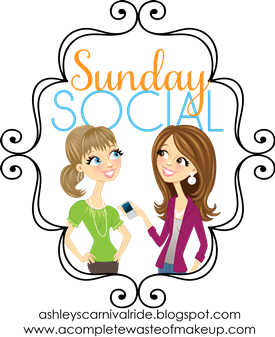 1. What is your favorite fall activity?
Im going to pretend it says activities- FOOTBALL!!, pumpkin picking, celebrating the hubs and the Grayson boy's birthday, back to school excitement, seeing the leaves turn colors, warm apple cider, taking Grayson trick or treating and finding him the perfect costume, Homecoming at the school I teach at and seeing the kids get all into it and have fun, celebrating the day I married the hubs- I like fall, a lot.
Our First Anniversary Picture- it was game day.
2. Do you follow a football team? If so, which one and why?
I love Football, and there is no question- I bleed black and gold. I grew up in a family of Steeler fanatics, and married a Steeler fanatic. We live literally 5 minutes from Heinz Field, and can hear the crowd roar from our back yard on game days. We try to go to at least 1 game a year, and have been on the waiting list for season tickets for 3 years now. I absolutely love how crazy Steelers fans are for their team, and the following that they have all over. They are hands down my favorite fall activity.
No lie, he was 12 hours old- but it was game day, and he needed to learn how to represent early. This photo made it onto the local news to announce his entrance into the world.
3. What is something fun about fall in your area?
The leaves turn pretty colors, tons of farms have pumpkin picking and hayrides, haunted houses galore, trick or treating in our neighborhood can yield 300 kids, and Steelers Games.
4. Fav Fall outfit staples?
Big chunky sweaters, jeans, warm hoodies, boots, fleecy sweats and football jerseys.
5. Things you are looking forward to most about this fall season?
Seeing Grayson turn 1 and enjoy his first Halloween where he can get a little into it and celebrating our second wedding anniversary.
6. Favorite Fall Holiday? Traditions?
I like Halloween just a bit better than Thanksgiving, but its close. Going pumpkin picking at the same farm, taking drives to see the leaves, carving pumpkins competitively, decorating for Halloween, Halloween parties at friends houses, writing what we're thankful for on our place mats and re-using them every year so we can see what changes year to year....Im big on traditions and holidays.
I will do this again this year- just need a bigger pumpkin.

Go Link Up With Neely and Ashley!! Now!!