Its been forever since I've linked up with Neely and Ashley for The Sunday Social- but this ones all about the end of summer, so here I am!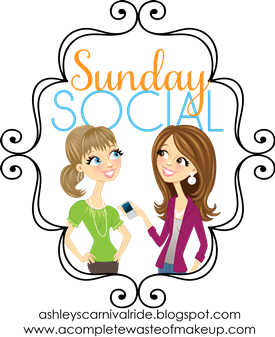 1. What was your favorite trip this summer?
Taking Grayson to the Outer Banks, NC. Growing up it was easily my favorite place on earth and the fact that he now loves the beach too made it perfect!

2. What was your favorite outfit look/clothing item of the summer?
My Ann Taylor Loft Skinny Crops- I could wear them as skinny jeans or roll the cuffs to make super cute capris. Win Win!
3. What is one thing you wish you would have gotten to do this summer?
Take Grayson to Sandcastle and have more pool play dates. Oh well, there's always next summer.
4. What was your favorite song of the summer?
I don't know- I didn't really have a song this summer. So Im going to say the moment that N'Sync reunited on the VMA's. Middle School Me was dancing in the living room nearly peeing my pants for those two minutes.
5. What was your favorite movie/tv show of the summer?
Well in this house we watch a lot of cartoons. I was thrilled to watch Big Bang Theory re-runs and Live with Kelly and Michael. Seriously though, I could watch BBT all of the time. It cracks me up!